Troop 33 YPT Announcement for all Adults – IMPORTANT
The BSA Youth protection training (YPT – Y01) has recently been updated to include a three-module course that all leaders and adults are required to complete by September 30, 2018. If you are a Scoutmaster, Assistant Scoutmaster, Troop Committee member, Merit Badge Counselor or active Troop parent, please complete the updated training and forward a copy of your completed certificate to the Troop Membership Committee at t33membership@gmail.com.
-To access the Training, go to http://my.scouting.org
-Enter your login name and password
-On the opening page of my.scouting.org, click on the Youth Protection Training logo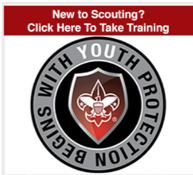 Any questions, please refer to How to Guide for Taking Youth Protection Training or contact t33membership@gmail.com.
Thank you.